Boxing Legend Joe Louis Shocks the World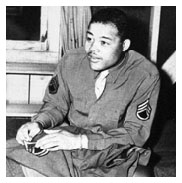 Listen to the BlackHistoryPeople.com production of Joe Louis' historic fight:
Named "Fighter of the Century," in 1960, Joe Louis Barrow was a boxing folk hero. He was known as "The Brown Bomber" when he stepped into the ring.

Born in Lafayette, Alabama (1914), Louis worked his way up the ranks to become a contender.

He captured the heavyweight championship in 1937, and defended his title 25 times.

Louis was champion from 1937-1949.

He's the only champion to defend boxing's top title while in the military, and during war.