Adam Clayton Powell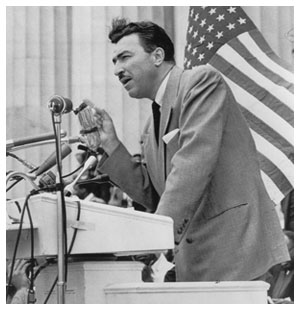 Adam Clayton Powell, Jr., of New York was a charismatic and determined civil rights leader serving in the U.S. House of Representatives for 12 terms.

Powell is best remembered as an early symbol of black political activism echoing the concerns of millions of African Americans.

In 1937, Powell succeeded his father as pastor of the Abyssinian Baptist Church in New York City.

A popular community leader, he decided to enter politics. He was endorsed by New York City Mayor Fiorello LaGuardia allowing Powell to easily win a seat on the New York City council in 1941.

With larger national ambitions, Powell took advantage of New York State election laws allowing candidates to run in multiple party primaries. He ran unopposed in the general election and subsequently earned a seat in the 79th Congress (1945–1947). He was the first African American Member to represent New York.
During his first term, he introduced legislation to extend the civil rights of District of Columbia residents, to outlaw lynching, to abolish the poll tax, and to end discrimination in the armed forces.

He attached an anti–discrimination clause to so many pieces of legislation, the language became known as the Powell Amendment. His rider was included in the 1964 Civil Rights Act.

In the late 1950s, Powell began to make headlines outside of politics. He was indicted for income tax evasion by a federal grand jury in 1958, and the federal government continued to investigate his finances, even though the well publicized 1960 trial ended with a hung jury.

The New York Representative was criticized for taking numerous trips abroad at public expense, for payroll discrepancies, and for a high level of absenteeism for House votes. Asked to justify his erratic attendance record, Powell asserted "You don't have to be there if you know which calls to make, which buttons to push, which favors to call in."

Charles Rangel unseated Powell in 1970. Powell was diagnosed with cancer in 1969 and declined rapidly after leaving Congress. He retired as minister of the Abyssinian Baptist Church in 1971 and spent his last days in Bimini. He died on April 4, 1972, in Miami, Florida.